Nido Student partners with global investor Nuveen on Copenhagen PBSA scheme
Nido Student (Nido) appointed to operate Nuveen's first PBSA asset in Denmark
The site forms part of Nido's continued expansion into the European market, demonstrating resilience of the PBSA sector
Completion is due in Summer 2022, with tenants due to move in for the 2022-23 academic year
01 April 2022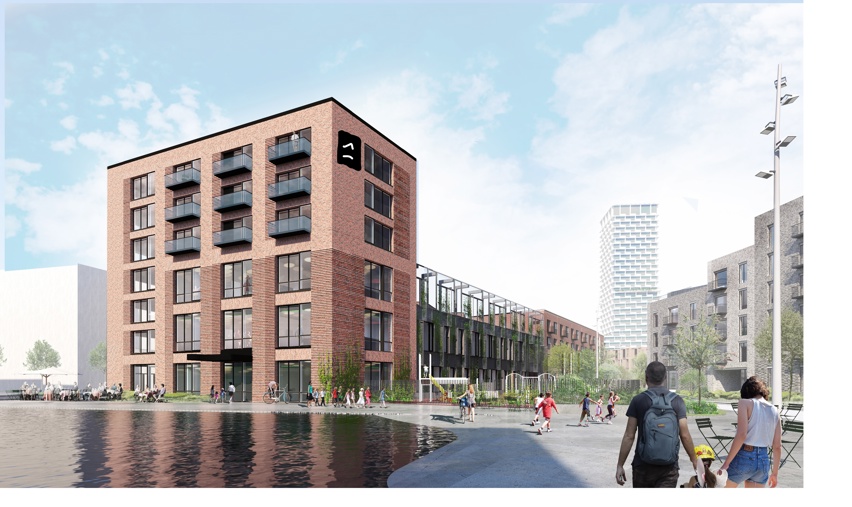 Nido Student (Nido), the international award-winning PBSA operating brand of Round Hill Capital, has partnered with Nuveen Real Estate, one of the largest investment managers globally, to open and operate its first purpose-built student housing accommodation (PBSA) scheme in Copenhagen.
Nido Bryggen is a 16,500 sq m (178,000 sq ft) student residence with 443 rooms, which Nuveen acquired on forward purchase basis in 2020. Leveraging over a decade of sector-specific knowledge and expertise, Nido has led a team a specialist PBSA advisers throughout the development phase and is responsible for the marketing, leasing, building management and tenant management of the property.
With a data-led and highly localised approach, Nido understands how to provide residents with a place and lifestyle that supports their success and builds communities. Nido worked closely with architect Arkitema to create modern and comfortable student rooms, communal spaces, and facilities.
The 443-room scheme consists of 331 studios, 53 two-bedroom apartments (106 beds), six one-bedroom apartments and is due to complete in July 2022. All residences come fully furnished with kitchen facilities and many feature a private balcony. Furthermore, there are 17 communal kitchens that include additional cooking, dining and socialising space.
The extensive communal spaces include individual and group study rooms, a TV lounge, café-style servery, games area, cinema room, private dining room, large gym, laundry facilities and multi-tiered roof terraces with views across the city and the University of Copenhagen's South Campus.
Located in the Amagerbro district on Njalsgade, the residence is conveniently situated a few minutes' walk from Islands Brygge metro station on the M1 line. It sits opposite the University of Copenhagen's South Campus, home to the faculty of humanities.

Nido currently operates 23 student residences across Europe, with an additional secured pipeline of over 5,400+ beds mobilising in the coming years across territories including Spain, Portugal, Italy, Ireland and Germany.
Andrew Jamieson Acquisitions Director and Project Lead, Nido Student said: "As the trusted property management partner for global investors, we're delighted to be partnered with Nuveen to mobilise this well-positioned asset. Nido is Europe's preferred operator of high-quality private student accommodation, we are excited to continue demonstrating our international capabilities by bringing our community-building expertise to this exciting project in Copenhagen.
Alisha Chauhan Fund Manager, Nuveen Real Estate, says: "The PBSA sector has seen a record year for investment across Europe and we expect to see demand for student accommodation bounce back to pre-pandemic levels for this academic year. With the Bryggens campus having a strong focus on community driven city life for students, Nido were the perfect operational partner to bring the new halls to life."